Stairway Twin-Over-Full Bunk Bed
For houses that are not very large in size, many consumers will choose bunk beds when they need a bed. Because bunk beds could greatly save space, so they have always been highly sought after by consumers.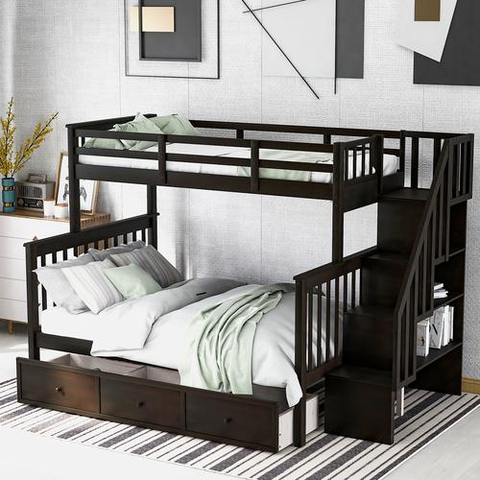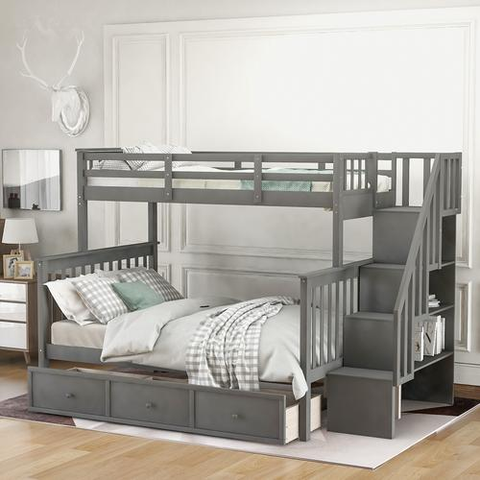 In a 76.97" x 42.91" inch (L x W) space, the normal bed can only be used by one person usually, while the bunk bed can be used by two kids or adults. For families with a small living area, bunk beds are definitely the best choice. The space saving is not only reflected in the number of users, but also in its supporting facilities. If you choose a normal bed, you need other supporting facilities, such as side table cabinets, desks. But these things are not needed with bunk beds, because bunk beds have storage and learning functions.
If you need extra sleeping space or your kids love sleepovers, this Stairway Twin-Over-Full Bunk Bed with Drawer is perfect for your home.  Upper bunk - 76.97" x 42.91" (L x W). Bottom bunk - 76.97" x 54.33" (L x W).  You will have enough space to move your body on it. Distance between upper and bottom bunk - 34.84", which makes easy to go up stairs and safe for your kids. The handrails on the stairs can also play a protective role.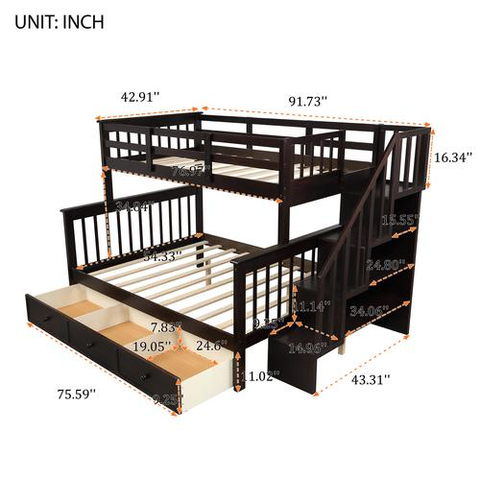 Four open shelves located beneath the attached staircase provide ample storage for your little ones' toys and bedding. And if there is only one of your family needs a bed, the upper bed can be used as a storage as well.
High-quality, solid pine legs and a strong, durable frame ensures stability and durability for long-term use, and can be separated into one twin,one full-size bed.Slat kit included so box springs are not required. This bunk bed is designed with a clean silhouette and a hue of elegance.
We have white and grey colors. It suits all styles of home decoration, and completes the look of any bedroom. You can see this product as our online store.